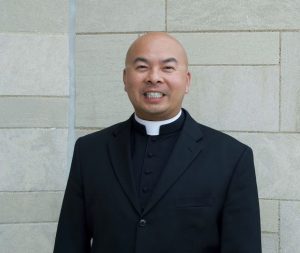 Dear Parishioners & Visitors,
Christmas is about family: our immediate family and the family of God. By God's family, I'm not just referring to Jesus, Mary, and Joseph. I'm referring to you and me! We are part of God's family, sons and daughters of God the Father. But similar to what can happen in our own immediate family, family members can drift apart from one another. That's in fact what happened to God's family. God's sons and daughters drifted away from our heavenly Father AND from each other as brother and sisters. With all the division and strife in our world today, we see that all too plainly.
But in this Christmas season, we celebrate a God who wanted to do something about that family strife. From his very own heart, God sent his Son, our eldest brother in Jesus Christ to enter into our poverty. He didn't come in some inaccessible palace of a worldly king. In that cave that served as an animal stable, he came into the midst of our poverty, reflective of the spiritual poverty and desolation our family has reached, in order to bring his healing, unity, and richness of life.
Many of you may be here not feeling like a very close member of God's family. As pastor of St. John Parish, I invite you to take an active part of God's family life again here in the Mother Church of Jackson. It's not the same without you! We may be a little dysfunctional, but what family isn't? That's why God the Son came to us in Jesus, so that he can walk with us on our journey back to the heart of God the Father, where we will find healing and peace – both with God and with one another. The Church is "not a museum of saints, but a hospital for sinners," and Jesus comes to us as the Divine Physician.
And so in this 2019, we invite you to take that next step in knowing better Jesus, our eldest brother. Did you know that an interpersonal relationship with Him is possible? A few ways you can discover that relationship include:
1) pray daily, and have that conversation with God at a given time each day (just like any relationship, it begins with communication and, if you don't know how to pray, listen to the homily for the Second Sunday of Advent on our website that explains a very simple way to do so);
2) join us at Alpha in February (great meals, conversations, and a video that helps us get to know Jesus just a little more each week);
3) join in on any of the many study opportunities our parish has to offer listed on pages 4-6 of this bulletin;
4) sign up for an hour of Adoration;
or 5) find out more about joining one of our many small group Bible studies!
My Christmas Gift to You This Year In years past, I have given you books for your spiritual reading (last year a DVD). Since we are in the midst of reading The Four Signs of a Dynamic Catholic as a parish in this Year of Prayer, I opted to go a different route this Christmas. To expand our musical repertoire to include many traditional hymns and chants that are not in our Gather hymnal, I had Dominic Kryst do some research, and he suggested the Ignatius Pew Missal. Since this year is an experiment, I thought the missalettes would be a wonderful Christmas present to you that will hopefully benefit our experience of worship.
Thank you to all for your gifts sent our way. Fr. Brian and I are grateful for those signs of appreciation you have for our spiritual fatherhood. May our gift-giving to one another lead to our appreciation of the greatest gift of all, the gift of salvation and family unity in Jesus Christ, the newborn King.
Yours in Christ,
Fr. Chas