St. John Catholic Cemetery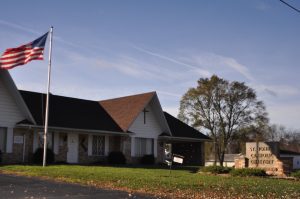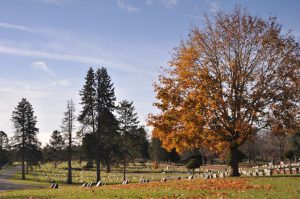 St. John's Catholic Cemetery
---
St. John's Catholic Cemetery is Jackson County's only Catholic cemetery serving the Catholic community at their time of loss.  St. John's Catholic Cemetery is a parish cemetery, rooted in the firm belief in the sacredness of human life.
St. John's Catholic Cemetery's 80 acres of consecrated grounds are well maintained by cemetery staff.  Since the mid 1800's, we have and continue to develop and beautify our grounds for future interments.
The chapel/office building, built in 1966, provides families a peaceful and fitting site for interment services.  Our office is staffed with knowledgeable, compassionate people who are ready to assist you.  Some of the goods and services we provide are:
Preneed arrangements
Burial vaults, manufactured on site
Locally made headstones, markers and monuments
Lots for full interment burials and cremation burials
Columbarium niches for above-ground cremation burials
Our cemetery strives to be a source of comfort and support during your time of need.  We invite you to visit St. John's Catholic Cemetery and experience the sanctuary of peace and quiet.  We encourage you to use the cemetery to pray, reflect, and meditate.
You are welcome to make an appointment, or just stop in and see us.  We will gladly answer all questions. Call at 517-783-1728 or email Jenny.
Click here to view the price schedule on the cemetery website: https://jacksoncemetery.org/price-schedule/
Find more information on their website.