SAVE THE DATE!  On September 11, 2021, there will be a special BYOB event.  More details coming soon!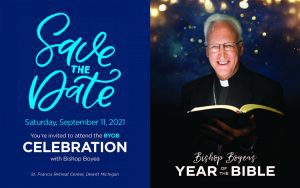 November 29, 2020:  Bishop Earl Boyea of Lansing invites you to join him in reading the Holy Bible over the span of 365 days starting on the First Sunday of Advent, November 29, 2020. You can join in at any time, even if you missed the starting date.  Just text BYOB to 84576.  Here is the Bishop's personal invite to you including details of how to sign up:
Once again, you can text BYOB to 84576 to sign up for daily scripture passages! For more information, visit the diocese page here: https://www.dioceseoflansing.org/news/bishop-boyeas-year-bible-invitation-you
Check this page later for more information!