"Confession isn't a place where I acknowledge sin has beat me, but that I'm letting Jesus win."   ~ Father Mike Schmitz
---
Reconciliation is a place where the soul can find freedom and healing from sin.  Through the grace of this sacrament, we find the strength to break the chains that bind us and the sin that can so easily entangles us. (Heb. 21:1)
Participating in Reconciliation at St. John the Evangelist
We encourage individuals who want to participate in confession to do an Examination of Conscience.  This helps prepare you to make a good confession with a priest.
Examination of Conscience for adults
Examination of Conscience for kids
First Reconciliation
We celebrate First Reconciliation before children receive their first Holy Communion, typically at "the age of reason" which is around seven years old, or 2nd grade.  We do not automatically assume all 2nd graders will seek Confession. If your family has a child wanting to prepare for First Reconciliation, please contact someone from our Faith Formation Department to set up a short Check-In meeting. We want to see a desire for the Sacrament, and will assume your family attends Sunday Mass regularly! Preparation will include Mass, attendance at Catholic School or Sunday Faith Formation with a seven-week special session. First Reconciliations will be scheduled one-family-at-a-time with Fr. Chas.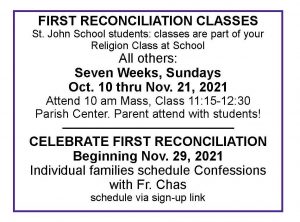 For more information or to schedule your Check-In, please contact:
Coordinator of Sacramental Preparation: Angel Koerkel  angel@saintjohnjackson.org
Director of Faith Formation: Todd Gale  todd@saintjohnjackson.org
Coordinator of Youth Faith Formation:  TBA
Reconciliation Hours
Reconciliation is offered at St. John every Saturday at 3:00 p.m. or by appointment.
Contact the office to schedule a confession with a priest at 517-784-0553.
Jackson Area Churches – Reconciliation Times