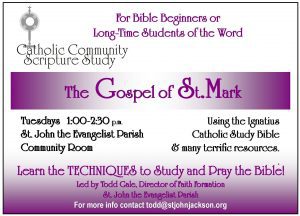 We began the study of Mark's Gospel in November; now some 25 weeks in, we are coming to the Passion narrative, the suffering death and resurrection of Jesus. In a couple of Tuesday sessions, we will finish with the Gospel of Mark, take a short break, and then start the next study. Let me know if you have a burning desire for what to study in the next series… the epistle of St. James? St. Paul's letters? Revelation? Or perhaps Exodus or one of the prophets from the Old Testament?
Thank you so, so much for the terrific group of participants who join in for coffee, snacks, friendship and Scripture on Tuesday afternoons! Our numbers have soared since we began—this Bible study evolved from a group that met at Queens for many years—hitting a maximum attendance one week of just under 50 people!
Each session has been recorded and is on the website in edited MP3 audio files, check out the web page: stjohnjackson.org/formation/ccss-gospel-of-mark/
If you've thought about joining in, or perhaps have been invited but "have never done Bible study before"—please drop in on a Tuesday and give us a try!