VBS HAS BEEN POSTPONED!!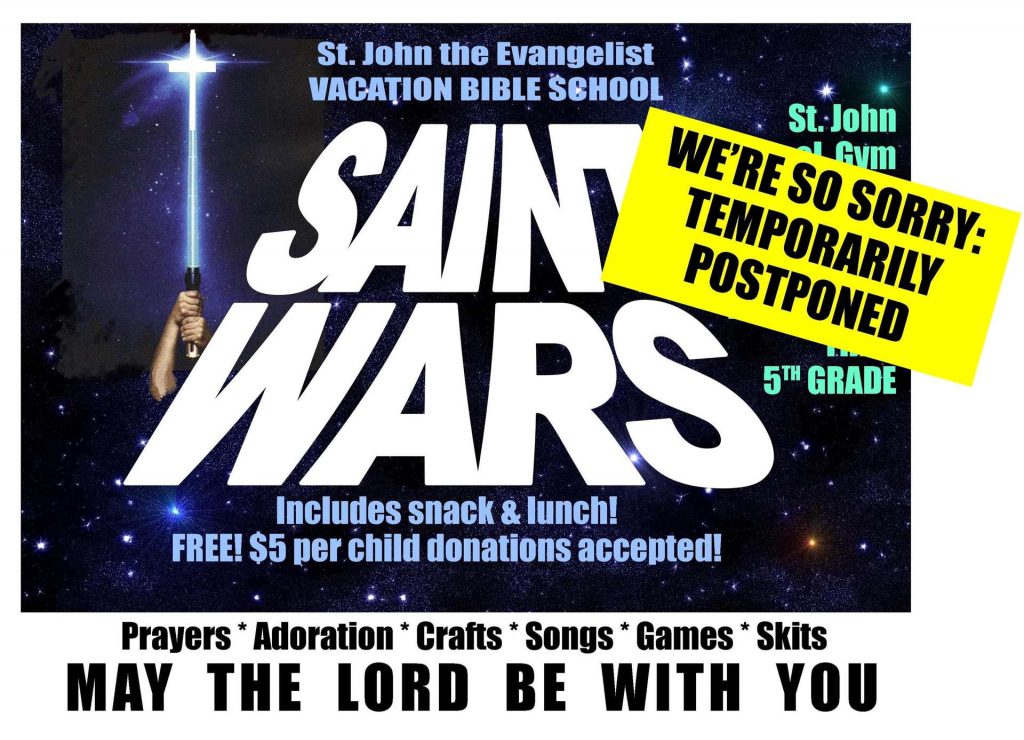 I'm sorry to announce that VBS for next week will have to be postponed. Hopefully we will be able to find a new date that works with everyone's schedule.
There are multiple issues that came up: there is an asbestos removal in the balcony over the gym (the gym and balcony are the only large air conditioned spaces in the facility–and we use the balcony for CRAFTS) while looking at projected VERY HOT days give us little space to meet with our projected 120 students! Also a minor medical issue with one of the key team leaders compounds a need to cancel for next week (not anything too serious! No worries!).
I will be sure to follow up with all of our pre-registered families.
I'm so sorry to have to do this, but will be in touch about a future make-up date!
<><
Todd
Todd D.Gale
Director of Faith Formation
St. John the Evangelist Parish
711 N. Francis St. Jackson, MI 49201
(517) 784-0553 X 121
www.stjohnjackson.org/faith-formation
Pre-School through 5th Graders join us for an amazing ONE DAY Vacation Bible School on Thursday, July 21 as we learn about the Saints and their battle against sin and evil in SAINT WARS. With a little reference to a popular movie series (hmmm… what could that be? Maybe STAR WARS??!!), we'll review prayers the kids should know, sing some fun songs, memorize a little Scripture, be active with some games, make some fun crafts, eat lunch and more! There will most likely be a special appearance by Jesus himself in the Eucharist for a short time of adoration. Please be sure to register HERE!
We will meet in the St. John's School, the Ken Dillon Activity Center (Gym). Use the back parking lot and entrance on the day of the event.