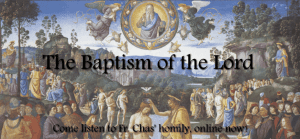 When's the last time you heard a "Godfather" impression during a homily?
Father Chas delivered this homily on January 11, 2015. We heard readings from Isaiah 42:1-4,6-7 and Acts 10:34-38, and the Gospel reading from Mark 1:7-11.
Today, as we celebrate The Baptism Of The Lord, some might wonder why did the Lord need a baptism?