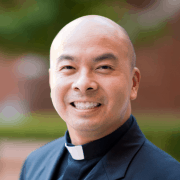 Dear Parish Family,
Who in your life needs Jesus?  In some ways, I ask a stupid question.  Everyone needs Jesus because everyone needs God.  He is the Way, the Truth, and the Life.  We all yearn to discover the way to happiness, the truth of who we are, and the fullness of life.  The beautiful thing is that God has become man so that we may know him and fulfill those deepest desires of our heart.  As St. John Paul the Great said, "Jesus Christ is the answer to the question that is every human life."
So who in your life lacks that relationship with our Lord?  I ask that question now because RCIA (the Rite of Christian Initiation that prepares adults to become Catholic for baptism and confirmation) may be too big of a first step for some.  They may need an intermediate step before diving into the process of becoming a Catholic, exploring the question of who this Jesus is and how he is relevant to our lives.  That's why we will be using the Alpha for Catholics program as the pre-RCIA inquiry period, which begins with a scrumptious dinner on Wednesday, October 7.
What I encourage you to do this month, then, is to think of who you could invite to that initial dinner and come with them to the Alpha course.  We all could use a deeper relationship with Jesus, and even veteran Catholics will find their faith renewed through it.  Please call Todd Gale, our Director of Faith Formation, at our parish office for more information.
Super Fun for Your Pre-K to 5th Grade Child!
What is your pre-K to 5th grade child or grandchild doing on Wednesday, July 29 from 10am until 3pm?  With a popular superhero theme, the kids will have super fun at this year's Vacation Bible School!  Normally, VBS is over a few days, but we haven't been doing them for a while.  So this year, we're doing a one-day extravaganza at St. John School.  Please contact Todd Gale, our Director of Faith Formation, for more information.
The Weekend This Filipino Becomes Polish!
Just as many of us become Irish on St. Patrick's Day each year, many of us become Polish for the weekend because our big annual Polish Festival is back on the grounds of St. Joseph on Saturday, July 25!  It was at this weekend last year that I began to call those delightful stuffed cabbage rolls by their proper Polish name of golumbkis.  Come and be Polish for the weekend, beginning with Mass at 4:00 p.m.!
Thanks to Our Altar Servers!
In appreciation for our altar servers, we will be taking them to the 7:05 p.m. Lansing Lugnuts game on Friday, August 7.  There will even be a brief fireworks display after the game.  To sign up your server (4th grade and above), please contact Jeromy Alexander at the parish office.  We are also looking for parent chaperones to help with carpooling.
Yours in Christ,
Fr. Chas