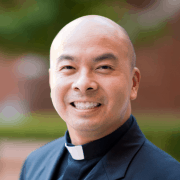 Dear Parish Family,
Thanks to the New Evangelization grant we received from the Trinity Foundation, four parish staff and I were at The
Amazing Parish Conference in Atlanta from Monday to Thursday morning of this past week.  Joining 1100 people from about 200 parishes from across the country, we learned from the best experts in parish ministry on how to best serve, empower, and equip you in your calling as God's people to be the salt and light of the world.
Among the major topics were building up a leadership team, improving the Sunday experience, and developing strategies for evangelization and discipleship.  Fr. Brian Lenz, Andy Bihl, Angel Koerkel, Todd Gale and I look forward to sharing with the other staff, the Pastoral Council, the other commissions and committees, the Parish Representatives, and the parish at large the various principles and practices that can help make our parish even more amazing!
Yours in Christ,
Fr. Chas