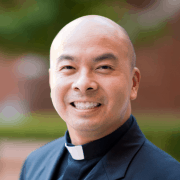 Dear Parish Family,
We are pleased to announce that we now have a Director of Parish Operations, Mr. Andy Bihl! He has a wealth of applicable experience, including being the Director of Facility Services for seven years for Sodexo, serving three college campuses. Prior to that, he worked for Aramark/ServiceMaster for over twenty years, including being both a Director of Business Development and a Director of Integrated Services for a combined twelve years. This "farm boy" has his MBA and wants to now use his business skills to advance God's kingdom and to serve his people.
Andy comes to us from Middlefield, Ohio. His wife, Amanda, and he have five children at home. He began his employment here at St. John this past Wednesday. Please welcome Andy when you see him. Thank you again to the Trinity Foundation for making this position possible. With Andy taking on much of the administrative aspect of my role as pastor, this will help me to focus more on the pastoral and priestly work, on working with our lay leaders on the Pastoral Council, our Parish Representatives, and on helping grow St. John through our evangelization and outreach initiatives.
What is the "Witness to Hope" Campaign?
In response to our church's needs to be able to pass on the faith to the next generation and to be Christ's presence in a broken world, especially here in our Jackson community, we are taking part in the first-ever comprehensive capital campaign of its kind in the Diocese of Lansing. Because this campaign does not begin until January for our parish, it is still in its formative stages. That is why we need your input! We are relying on your feedback to help shape the way our parish will approach the upcoming "Witness to Hope" Campaign.
To that end, I hope you've had the opportunity to read over both a) the "Witness to Hope" Diocesan Case Statement and b) the St. John Parish Case Statement that were inserted in the bulletin last Sunday. They list all the various ways our parish will benefit richly from this campaign and ensure its future. If you did not get them, we will have copies available at the entrance of the church, at the parish office, as well as on our website. Our parishioners will be invited to fill-out the in-pew survey at all the Masses this weekend. If you did not get to fill one out, please go to our website to access the survey. Your opinion matters because it is our collective efforts that will continue the tradition of St. John alive for our lifetime and beyond.
Please come to the Town Hall meeting on Tuesday at 7:00 p.m. when we will explain in great detail how a "Witness to Hope" combined capital campaign would work. Everyone will have the opportunity to ask me, the Greater Mission representative working with us, and our parish's lay leaders anything and everything about the campaign and to give your input about what is possible and optimal in preserving and advancing our St. John Parish, as those that have come before have so generously done for us! I hope to see you Tuesday evening! Light refreshments will be served at 6:30 p.m. so we can socialize with one another beforehand.
Yours in Christ,
Fr. Chas