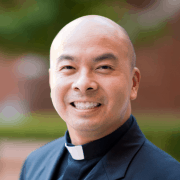 Dear Parish Family,
Last week, I wrote a little bit about our new Director of Parish Operations, Andy Bihl.  With his passion, personality, experience, and eagerness to make Jackson his new home, he was the clear choice among the parish and cemetery staff.  I wanted to give him the opportunity to introduce himself, as well as a picture so as to recognize him.  Thanks to a very generous grant from the Trinity Foundation, we are able to guarantee him a two-year contract.  He will be a great help with the administration of the parish, especially as my pastoral duties increase tremendously with three major initiatives:  1) the "Witness to Hope" Campaign from January to June, and the capital projects that flow from that, 2) the "Called By Name" outreach over the next two years, and 3) the formation of our 72 Parish Representatives.
Yours in Christ,
Fr. Chas

---
Dear St. John Parish,
Hello!  My name is Andy Bihl, and I am blessed to be the new Director of Operations for St. John the Evangelist Parish, including support for St. Joseph Oratory, the school, and the cemetery.  My wife and I, along with the five children we have at home, will be relocating here as soon as we sell our current house, but I am in town and on the job now.
I am a lifelong Catholic. At the end of the summer, I discovered a letter I had written in 2001 to my Bishop at the time expressing a desire to someday work for the Church. The date on that letter made me realize that it wasn't going to happen by accident, so I started a purposeful attempt to find a way to serve the Church. The first possibility I found was this one.  I hoped from the beginning that it was a sign, since I was married in a St. John the Evangelist Parish, AND my middle name and the middle name of my three sons is Joseph because I have always had a devotion to the leader of the Holy Family.
Father Chas and I have made a mutually huge commitment to each other to make every day better than the last.  I cannot adequately describe the emotion I have felt since my first day on the job with all of the good things that exist here.  I am grateful to be part of it.  This is simply the latest example of God's blessings raining down on me and my family, and as I get to know you, I will share how amazing it has been.
Thank you all for inviting me to be a part of this parish family.
Sincerely yours,
Andy Bihl