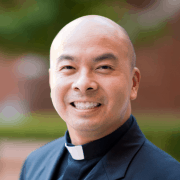 Dear Parish Family,
It has been a roller coaster of emotions this past week.  Presiding over the funeral of my mother Lolita, burying her remains, and grieving her loss have been tough.  At the same time, God's grace has revealed itself in powerful ways, comforting us with the great hope that we will be reunited one day.
The prayers of so many have been palpable.  One highlight was my own father who naturally had been taking her death quite hard with disbelief, anger, and sadness.  Dad had been weeping and mourning for two nights, and at 2:00 a.m. on that second night, Mom appeared to Dad in some fashion, sitting on their bedroom sofa where she so often sat.  Mom asked, "Why are you grieving?…. I am on my way up to heaven."  She then cited what Dad recognized as the first few verses of the Gospel of John 14.
Dad then told us that he definitely wanted those verses to be the Gospel for the funeral.  The wonderful thing was that I had already selected precisely that Gospel passage without Dad even knowing it!  I would like to share with you part of the first three verses of John 16:  "Let not your hearts be troubled.  In my Father's house there are many dwelling places. If there were not, would I have told you that I am going to prepare a place for you?  And if I go and prepare a place for you, I will come back again and take you to myself, so that where I am you also may be."
Mom's visit immediately put Dad at ease.  Jesus prepared a place for Mom and now she was on her way to help him prepare a place for Dad.  We noticed that his demeanor had taken a 180 the following morning and through the days up to the funeral.  Dad gave a hope-filled eulogy after communion that moved many to tears.  He was still riding the wave of that immense grace he had received just a few nights before.
Thanks for the Donated Furniture!
You may have noticed some nice looking leather couches and chairs in our parish center.  Some out-of-town friends came in for a visit earlier this month and donated the furniture to us.  I think they give our parish center a cozier atmosphere and provide another comfortable place to meet since our two meeting rooms are often occupied.  They also may invite more "coffee talk" after Mass.
Share with Us Your Testimony
While I was having that powerful Pentecost weekend in Columbia, Missouri, I was delighted to hear that you all also had one at the parish with our visiting priest, Fr. Mathias Thelen.  With so many in attendance desiring to be prayed over, the Pentecost Healing Service lasted over four hours from 6:00 p.m. until well past 10:00 p.m.  I heard many experienced healing:  physical, spiritual and emotional.
Please email or write us a note about your experience of healing, so that we can share your testimony with the rest of the parish, either in the bulletin or in promoting future opportunities.  This goes not only for the Pentecost Healing Service, but also for the two nights of adoration we have had during the Advent and Lenten seasons.  So many of you have come up to me to express how moving and powerful your encounters were with Jesus in the Eucharist.  Because I can't remember the stories verbatim, please send me even one phrase or sentence about your experience with the Eucharistic Lord.  They are so encouraging!
Yours in the Holy Spirit,
Fr. Chas