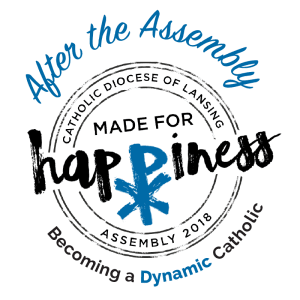 We are called to be Missionary Disciples! But what does this truly mean in our day to day lives? Listen as Todd Gale and Joseph Gruber pick up where the historic Diocesan Assembly, Made for Happiness, left off. 

Even if you weren't able to make it to the assembly, tune in to hear a sneak peak of the first step of the 4 Signs of a Dynamic Catholic. Make your faith come more alive as we dive in to the topic of prayer!
This is open to everyone, even if you didn't attend the Assembly! Come learn how to be formed as a Missionary Disciple.
Todd Gale –  Something Awesome this Way Comes (Why our world needs Missionary Disciples)
Joseph and Crystal Gruber – Intro to the 1st Sign of a Dynamic Catholic (Prayer) and How to do it Well