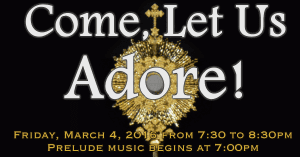 Twice each year – during Advent and Lent – Father Chas leads our parish in a Holy Hour of Adoration. Our next event is on Friday, March 4, 2016. There is no cost and everyone is welcome!
If you haven't had the chance to attend in the past, I assure you this is an event not to be missed!
Many hands work together before and during, to ensure that we have created an environment for YOU to come and encounter Our Lord Jesus, while adoring His physical presence in our world.
At 7:00pm prelude music will start in the church, as we begin to prepare ourselves for His presence.
At 7:30pm Father Chas will begin the Holy Hour, which will include Eucharistic Adoration and Procession, a homily and time for us to silently reflect on Jesus' presence in our lives.
Following the holy hour, we open the doors to our parish community room for opportunity for us to come together and share our thoughts with each other before venturing home for the night.
If you haven't been to a Holy Hour led by Father Chas before, check out the photo album below, and if you do plan on attending, be sure to check in on our Facebook Event page and invite your friends to join your: https://www.facebook.com/events/189846048051002/