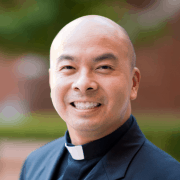 Dear Parish Family,
As you may know, July to June is the fiscal year for the Diocese of Lansing and also the time when any new priest assignments take effect.  Those are often made known in the month of April.  I am very pleased to announce that Deacon Brian Lenz, who will be ordained to the priesthood in June of this year, will be our new Parochial Vicar beginning July 1.  
I know Dcn. Brian personally, as I was his formator for his initial years at Sacred Heart Major Seminary.  Upon receiving his philosophy degree, he then went off to the Eternal City of Rome to attend the Pontifical North American College for his four years of theology.  He recently had the huge honor of serving as deacon for Pope Francis on Easter Sunday!  
Among Dcn. Brian's many gifts is his musical talents, particularly on the piano.  As a graduate  of the University of Michigan, our Spartan fans will be happy to know that they now have two priests who cheer for the Maize and Blue.  Dcn. Brian is a fine young man, and we will be blessed to have him serve our St. John family.  A priest's first assignment always holds a special place in his heart, and I'm sure our wonderful parish family will be so for Dcn. Brian.
Our dear Fr. Kurian will be with us through June.  We will celebrate his service to the parish in June.  As you know, Fr. Kurian is part of the religious order, Missionaries of St. Francis de Sales.  His order will be calling him back to serve at his province of East Africa once the immigration formalities of his replacement are resolved.  We are so thankful for his sacrifice of service not only to our parish, but to his ten years to the people of our Diocese of Lansing!
Yours in Christ,
Fr. Chas