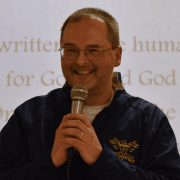 In the opening lines of this epistle, we explore Paul's name, his call, God's will, and introduce the themes of comfort and suffering.
The English word "to comfort" means "with fortitude" or "with courage" and is directly linked to the name Jesus gives the Holy Spirit: the Paraclete.
Thanks so much to the large gathering of folks who joined us for the first session!​
Keep up with the study -> Click here and see all the mp3s on one page!