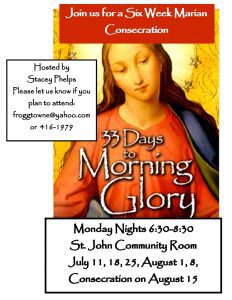 For the third time we will be offering the "33 Days" Marian consecration! Written by Fr. Michael Gaitley, the 33 Days to Morning Glory is a book and DVD curriculum that helps us to open our eyes to a whole new level of holiness: consecrating ourselves to Jesus through Mary. Following the amazing teachings of St. Pope John Paul II, St. Maximilian Kolbe, Blessed Mother Therese, and St. Louis deMontfort, Fr. Gaitley leads us on a journey to enter the Sacred Heart of Jesus. This is truly a life-changing event!
There is a small cost for the book and an optional workbook, which we should have on hand for the first session — but if the price is a stumbling block, let us know and we can do our best to get materials into your hands!
The sessions will be held on Monday evenings in the Community Room of the Parish Center, 6:30-8:30. Starting July 11 and ending with a consecration on the Feast of the Assumption of Mary, August 15. For details or to pre-register feel free to contact Stacey Phelps at froggtowne@yahoo.com or 517-416-1979.