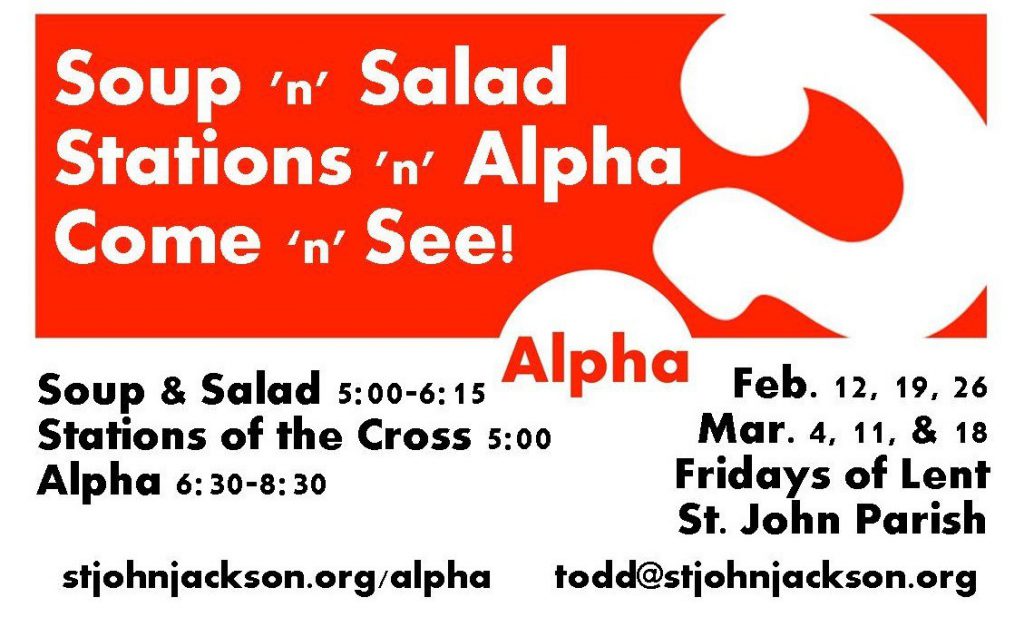 All are welcomed to come for ONE:  Stations, Food, or Alpha. Or a combination! Or all three! Stations will be held at St. John Church, the meal and Alpha in the Community Room of the Fr. Francis Murray Parish Center
Alpha:  Six Fridays + one Saturday = Life Changed
EVERYONE is interested in religion at some point in their lives… they wake up at 3:00 in the morning and say "Is there more to life than this?!" Alpha helps lead to the Way. Come and see.
Alpha in the Catholic context is recommended by Fr. Cantamelessa who is the preacher to the recent Popes. If it's on HIS radar, maybe we should come and see why thousands of Catholics in over 70 countries around the world have been through Alpha. Fr. John Riccardo from the Detroit Archdiocese has made this the foundation of his amazing expanding parish.
Our second Alpha will run on the Fridays of Lent and a half day retreat Saturday March 5. Join in for the Soup 'n' Salad, which starts serving at 5:00pm. The Alpha nights begin promptly at 6:30; it's a lot of fun, a talk, some music, and terrific table discussions. Come just to the first one on February 12 and see if it's for you. A super simple registration helps us to make sure we have enough room for everyone; please register!