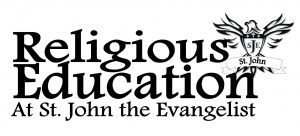 Religious Education Newsletter – Week of January 31, 2016
From Mr. Gale
Report cards and our post test are coming up soon! I'm a week behind where I'd like to be, with super busy activity in the parish office, but hope to have report cards in the mail to parents soon. This next Sunday we will offer the post test; the same test we took in the first weeks of the year. We will compare the two to measure growth. Most of the test is linked to prayers we should know, Mass responses and basics of the faith.
Up-Coming Dates and Events
SNACK SCHEDULE   2016     1/31 N-R      2/7 S-Z   2/21  WE provide    2/28  WE provide
ALPHA, SOUP SUPPER and STATIONS DURING LENT
We are planning to launch Alpha 2 during six Fridays of Lent (ending before Good Friday). Alpha is opened to ALL parishioners, cradle Catholics as well as newcomers to the Faith; but it is especially geared for those who have never encountered the Church or Jesus. Alpha is a safe place to ask questions, explore, wrestle with some of life's questions, and meet new friends. It is especially strong when we have a mix of people: some non-Catholic and others well-formed and living authentic Catholicism.
Fridays of Lent beginning with February 12, we will offer a light soup 'n' salad dinner starting at 5:00. The dinner will be served until 6:15; with Alpha beginning at 6:30 each week. The dinner is provided as a free will offering (no set charge!)! We are looking for a few soup cooks and a salad crew to help the Boy Scouts and Knights. We could also use a few more HOSTS and HELPERS for Alpha. Please contact me if interested. Come and see what all the excitement is about!
What we are memorizing:
The Church is ONE, HOLY, CATHOLIC and APOSTOLIC.
Who is the Church? WE ARE! Where is the Church? RIGHT HERE! Who is the heart of the Church? JESUS!
Prayer to the Holy Spirit
Come Holy Spirit,
fill the hearts of your faithful,
and kindle in them the fire of your love.
Send forth Your Spirit and they shall be created,
And you shall renew the face of the earth.
O God, who by the light of the Holy Spirit
instructed the hearts of the faithful,
Grant, that by that same Spirit
we may be truly wise
and ever rejoice in His consolation.
We ask this through Christ our Lord. Amen
Remember:
THOU SHALL ATTEND. Students are expected to attend all scheduled classes.  If a student is going to be absent, we ask parents to notify the office or the catechist/teacher if you know in advance.  Illness, emergencies and last minute schedule conflicts are unavoidable and we truly understand! Consistent attendance is important to our program, just as it is in any subject area.
THOU SHALL BE ON TIME. Please be on time! Late arrivals and early dismissals disrupt class for everyone so we appreciate parent efforts to avoid this whenever possible.
THOU SHALL PARTICIPATE. We expect students who take the time to show up will invest their energy and participate!