Starting the first Tuesday of October, we will launch our next study of the Catholic Community Scripture Study: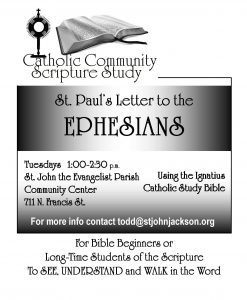 St. Paul's Letter to the Ephesians, using the Ignatius Catholic Study Bible.
We know more about Ephesus and the Ephesians from the Bible than any other Christian City (other than Jerusalem!). The Book of Acts records the extraordinary planting and early days of this church. The letter to the Ephesians gives us insight. In the Book of Revelation, Jesus sends seven letters to seven churches, one of them is Ephesus. Tradition tells us that St. John the Evangelist was pastor there and Blessed Mother lived with him. This letter of St. Paul is filled with HIGH theology and beautiful heart-grabbing motivation for disciples.
Join us as we go line-by-line looking at the meaning to the original recipients and the way we apply it today to our own walk. We meet Tuesdays, 1:00-2:30 in the St. John Community Room and we will record the sessions for those who want to listen.