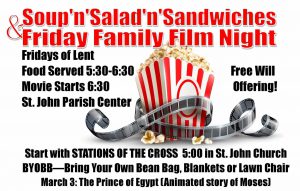 This year on Friday nights of Lent, we will offer our St. John tradition of Soup'n'Salad'n'Sandwiches along with a family-friendly film! Start with 5:00 Stations of the Cross in the Church; travel over to the Community Center for terrific soups made by Amy Kaiser and her crew, build-your-own salads, Knights of Columbus specialty grilled cheese or quesadillas, and Lent-friendly desserts; then enjoy family movies on the big screen! The Boy Scouts, Knights, and friendly volunteers will help serve and bus the tables. All for a free-will donation of your choosing!
For the first Friday, March 3, the movie will be the animated story of Moses by DreamWorks, The Prince of Egypt (rated PG for intense drama of the Passover events). Movies coming up include a claymation story of Jesus, Christian-friendly sports stories, a miracle movie, and more. Bring your own bean bag, a lawn chair, blankets and pillows, or stay at the comfy round tables to watch the movie. First come, first serve on the couches and leather chairs!
5:00 Stations of the Cross
5:30-6:30 Food served
6:30 Movie starts
Come for the evening, or for one, or for two!