Religious Education Newsletter –November 13, 2016
FROM MR. GALE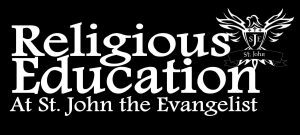 Ask your students: Is Jesus God? Is he God the Father? God the Holy Spirit? God the Son? Also: Who is the Church? Where is the Church? Who is the heart of the Church? Along with silly songs such as I Wanna Be A Sheep, Jesus is Stronger Than Superman, Shut De Do, The Banana Song, Yes Lord we also are memorizing prayers and learning "shout outs" about the Faith. The kids have been terrifically engaged and cooperative!
We are looking for your input as to the best way to bring our Middle Schoolers together; is it to continue with Sunday morning religious ed classes along with the other grades? Would it be better to have a session for teens after the 5:00 Mass on Sundays? Would a weeknight be better? Clare Kolenda will be sending out a survey to our 6th-8th grade families to see how we can better serve our youth!
For our 2nd grade parents, here is a link to 2nd grade info sheet  (First Communion registration)  and one for 8th grade students preparing for Confirmation (Confirmation Request form).  We will provide hard copies of each, but it's easier for all if you can do them online! Thanks!
Our Christian Service Commission will be giving out food baskets for Thanksgiving dinners to several parish families in need. The Commission will buy turkeys, potatoes and other foods that need refrigeration, but we can help with canned and boxed goods, jars of gravy or anything that could go on a shelf! I started this late for the year, so we only have THIS WEEK LEFT for the collection! Let's build a mountain of food like we did last year! Food can be brought right to the front of the Gathering Room.
We are looking for at least ONE more person to help with the very large Second Grade class. If you would like to be a part of this dynamic and rewarding experience, please contact me at todd@stjohnjackson.org.
Thanks for making our Sundays GREAT days!!
UP-COMING DATES AND EVENTS
CONFIRMATION MEETING SUNDAY
The 2016-17 Confirmation class (mostly 8th Graders this year)
Are now BEGINNING their preparation: Our first large group meeting for NEXT YEAR's candidates and their parents and sponsors is Sunday, November 13, 3:00-5:00 in the St. John Community Room.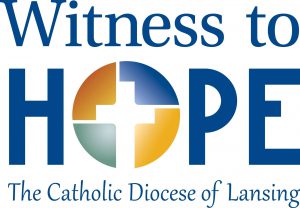 WITNESS TO HOPE TOWN HALL MEETING On November 15, 7:00 in the parish center, come and hear about the big plans within the Diocese and St. John parish, including a large 5 year capital campaign!
COME LET US ADORE HIM – An evening of beautiful Adoration on Friday December 16; visit Our Lord with music and Eucharistic Adoration! Teens and kids LOVE Adoration!!
YOUTH GROUP Miss Clare is doing an awesome job with the Youth Group and getting to know families; please feel free to come to events on Sundays after the 5:00pm Mass in the Parish Center. Watch the bulletin—occasional special events and trips to a coffee house included!
SNACK SCHEDULE.
2016     
11/13/2016       S-Z
11/20/2016       WE provide
12/4/2016         WE provide
12/11/2016       WE provide
12/18/2016       A-D
REMEMBER:
From our TEN COMMANDMENTS of RELIGIOUS EDUCATION:
THOU SHALL NOT HAVE ELECTRONIC DEVICES UNLESS INSTRUCTED! Students are expected to keep cell phones off and in their pocket during class time, unless they are used at the guidance of the teacher/catechist.
THOU SHALL NOT HAVE WEAPONS, DRUGS, ALCOHOL, PORNOGRAPHY OR OTHER DANGERS WITH THOU, IN THOU OR NEAR THOU.  Enough said?
THOU SHALL SHARE IN SNACKS AND CLEAN UP. We will ask for a rotation of people to bring snacks (if you are able) and to help clean up each week. It is expected that you will do all that you can when it is your turn! We DON'T expect you to purchase snacks if it's a financial burden—do what you can!
THOU SHALL SINCERELY ATTEMPT TO BE DISCIPLES OF JESUS. A disciple is a student who follows the Master… we invite you to follow the Master Jesus sincerely and enthusiastically.