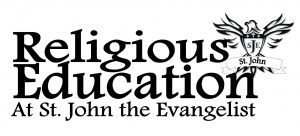 For our Religious Education families, please note we will NOT have class on February 14! We also will NOT meet on Easter Sunday March 27 or the next week, April 3 which starts Spring Break. Our last day of class will be Sunday, April 24. 
This year we brought in some specific learning objectives, added all-group gathered time to work on memorizing prayers and mass responses, sent out report cards, and have worked hard to create a welcoming environment for our students. We just compiled results from a pre and post test with fantastic results. I'll share details in later bulletins. The volunteer staff is dedicated and committed to this ministry; we are so thankful to them all!
Between May and next September we are planning to offer a big once-a-month gathering; sort of a Vacation Bible School format, to stay in touch with our kids, and have reminders for our prayers and other learning goals. Dates and details will be announced soon.