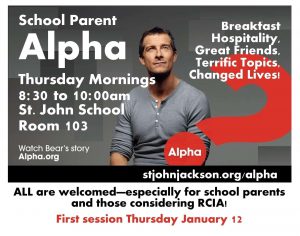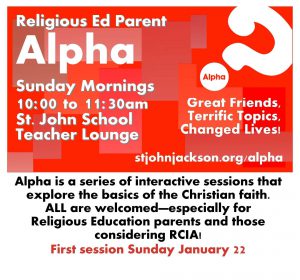 "Alpha is for meeting Jesus." That was said by Cardinal Christoph Schönborn, Archbishop of Vienna and key author of the Catechism of the Catholic Church!
Alpha is all about great food, friends, terrific video presentations, personal sharing, open conversations, asking questions, prayer and laughter… all with the aim of going deeper into an understanding and openness for Jesus and the Church. Alpha is a great introduction to Catholic Christianity for those who are considering becoming Catholic; and it's a great refresher course or opportunity to "reboot" for life-long Catholics.
Our next Alpha will take place on Thursday mornings in our warm and wonderful St. John Elementary School; starting January 12. Then, starting Sunday January 22, we will offer Alpha on Sunday morning during Religious Education classes, 10:00 to 11:30! We are aiming these two opportunities at parents who are thinking about RCIA (the process of becoming Catholic) or who want to reignite their faith journey. But it's open to anyone who wants to attend!
CLICK HERE for more information or to register!