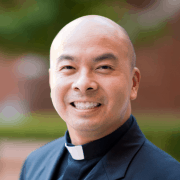 Dear Parish Family,
As I write this Sunday's bulletin article, Fr. Brian and I are with our brother priests of the Diocese of Lansing at the annual Presbyteral Convocation.  This year, we are at the Bay Valley Conference Center in Bay City.  We are meeting from Monday through Thursday.  We meet for priestly formation, personal development, diocesan business, fraternal prayer and fellowship.
On Monday, we have registration, the welcome social, a holy hour, adoration of the Blessed Sacrament, and Bishop Earl Boyea's annual address.  On Tuesday, we have a couple of sessions of priestly formation and personal development, followed by diocesan reports from people like 1) the Moderator of the Curia, 2) the Vocations Director, 3) the Chief Financial Officer, 4) the Director of New Evangelization, 5) the Director of Property Management, and 6) the Director of Marriage and Family Life Ministry, among others.  We also have elections to the various diocesan commissions and committees.
On Tuesday evening, we have Mass and celebrate "the Jubilarians," which are the priests who are celebrating milestone anniversaries this year.  After dinner, a close friend gives a toast (and a little bit of a roast as well), honoring each jubiliarian for their vocation and friendship.  It is an evening of remembrance, inspiration, and laughter.
On Wednesday, we have two more sessions of priestly formation and personal development.  We have the annual "Mass for Deceased Priests" at which every priest of the Diocese of Lansing who has passed is announced, followed by a brief moment of silence.  We also have some free time in the afternoon to play golf!  In the evening, we have a Penance Service at which priests confess our sins to one another and receive the Sacrament of Reconciliation.
On Thursday, we have the final two sessions of priestly formation and personal development.  Two big topics we discussed with some extent is:
1)    The Diocesan Assembly, on Oct. 21 and 22.
2)    The Diocesan Capital Campaign, "Witness to Hope" (from January to June 2017)
The Diocesan Assembly is open to all parishioners who want to know more about how to accompany any family and friends who have fallen away from the Church back to the practice of the faith.  To find out more and to register, please go to www.calledbyname2016.org.
The upcoming Diocesan Capital Campaign will help position the diocese to best serve the needs of the parishes, particularly in the areas of Catholic education, Catholic charities, seminarian education, and evangelization.  Beginning this month, the development firm that the diocese has hired will be conducting a feasibility study here at St. John to help us determine whether or not it is a good idea to combine our parish's future capital campaign for our various needs with the diocesan capital campaign.
Finally, ALPHA at Grand River Brewery this past Tuesday had a great start this week with all 77 spots taken!  The smoked pork chops were a hit!  Usually, a few spots open up during the second week.  So, if you would like to come this Tuesday, Oct. 11, please email Todd Gale at todd@stjohnjackson.org to confirm availability.  We can send you a link to the 23-minute video talk that was shown on the first night to catch you up.
Yours in Christ,
Fr. Chas