Most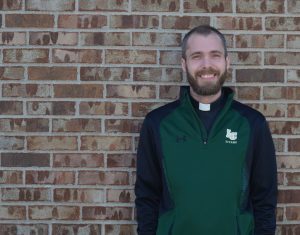 Rev. Earl Boyea, Bishop of Lansing, has announced that the current Parochial Vicar of St. John Parish in Jackson, Rev. Brian Lenz, will be the new Chaplain of Lumen Christi Catholic School as of the start of the new school year this August. He will be replacing Rev. Daniel Lannen, who concludes his service to Lumen Christi at the end of this academic year.
Rev. Lenz is not new to the Jackson community. The popular preacher has served the communities at St. John Church and Elementary School and St. Joseph Oratory for the last two years and will continue to celebrate Sunday Masses at St. John Parish as the Chaplain of Lumen Christi. Rev. Lenz was ordained in 2016, after having attended the North American College in Rome and Sacred Heart Major Seminary in Detroit. He is a native of Okemos, graduated from the University of Michigan, and is a gifted musician.
"While we are sad to see Father Brian leave his pastoral role here during the week, we are excited to see how the Lord will use him to serve the wider Jackson Catholic community, especially our kids and their families. Plus, we are delighted that our parishioners will continue to hear his anointed preaching on Sundays!" said Fr. Chas Canoy, pastor of St. John Parish.
Fr. Brian asks for your prayers as he makes this new transition. Please join us in congratulating him when you see him!