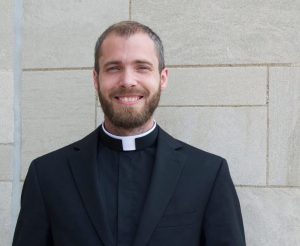 Happy Sunday! I trust that your celebration of our nation's 242nd birthday included all the requisite fun and good memories that such occasions afford us. Sunny weather, family and friends, bratwursts, a can of cold beer, sparklers, and dad's characteristic pyrotechnics…the blessings abound when we celebrate the red, white, and blue. Proof that God is real and that He loves us and blesses us in the very ordinary circumstances of daily life. Thank you, Jesus.
Well, I plan for this week's update to be much shorter than last week's article. First things first, please don't forget that our St. Joseph Polish Festival is coming up the last weekend of this month, July 28-29. Be sure to grab some raffle tickets for that party! You can get them either at the St. Joseph parish office on weekdays, or after Masses on Sundays wherever you spot an official St. Joseph-ticketseller-volunteer. Or if you know somebody whose father's neighbor's friend's daughter's Catholic nephew in-law is Polish, chances are good they already have tickets and can spare you a couple extra.
Members of our parish staff continue to work on our daily Mass intention scheduling changes. We have charted all of our change requests and are currently in the midst of contacting individual families to help them reschedule. At a certain point, we will begin handling the Mass intentions of those for whom we do not have a contact phone number. We'll then issue a general request for parishioners to call the office, probably in blocks of specific date ranges. At the moment we're not asking anything of you in that regard, so thanks for continuing to hold tight.
Very briefly, my personal schedule will be changing as we move into August. I will be spending increased time at Lumen Christi in the weeks running up to the new school year. For that reason, I will no longer be taking personal appointments beginning on Monday, August 6th. I will, of course, continue to be available for hospital/hospice calls until Fr. Chas returns and for other serious or exceptional situations that may arise. But in general, it will be an active time of planning and prep for my new role as chaplain, so I'll need to set aside those daily hours to focus on my transition. Please pray for me! As always, I'm grateful to be a priest here and thank God that His providence continues to guide us.
God bless us all!