"Lord, this is the people that longs to see your face." (Psalm 24)
Hello St. John Parish Family,
As the number of us St. John pilgrims have returned from the Holy Land, you've undoubtedly noticed the enthusiasm and excitement with which we share about our experiences there, from Fr. Chas' moving homily last weekend to our night of sharing at the Parish Center this past Tuesday. (Thank you to those who were able to come and listen!) In a sense, it's all so hard to put into words; "I'm still processing" is a common phrase among the pilgrims, myself included! But even with our sometimes momentary lack of words, the Lord has moved in our lives and we sense it, we know it. I've always loved these words about "words": "Human language is like a cracked kettle upon which we beat out tunes for bears to dance to when all the time we are longing to move the stars to pity." They exhibit the inadequacy of our human language to sometimes truly capture the emotion and movement within; words can come up short and never quite convey the depth of our soul. Nevertheless, we try…compelled to share, and the Holy Spirit sometimes fills in the rest. With that, I'd like to share one of my journal entries with you.
Holy Land Journal Entry, 4/29/22
As I write on the plane ride home from our Holy Land Pilgrimage on April 29th, I finally have time to reflect on not only the past eight days of visiting sites in Galilee and Jerusalem but on the days that preceded those, in the Lenten season that was made so powerful, insightful, and healing with the reflections and journaling my small group and I did using the Lenten journal Restore.
I was reminded last night as we traveled to the airport that as some of our pilgrimage group met in the Parish Center prior to the pilgrimage that the Psalm we prayed was "Lord, this is the people that longs to see your face." In prayer before the trip, I sensed that the Lord longed (and longs) to see our faces (yours and mine), but not just the facade as it were, but our TRUE face where we come to Him in vulnerability. And in the beauty and goodness that is the Lord, he led the way by example, revealing in the Holy Land the very depths and heights of His vulnerability, especially in the Holy Sepulchre (the site of his crucifixion, burial preparation, and tomb).
As I knelt at Mt. Calvary where He gave His very life for us, I immediately sensed Him say, "See the depths of my mercy!" And what greater act of vulnerability can there be than to offer mercy? Mercy "lays it all out there." Either someone will accept it or reject it–and with that acceptance or rejection, the very giver Himself. And if we don't accept the Lord's mercy, what have we? Certainly no true relationship, no acknowledgment of God as love. Yet he offers it so tenderly, so vulnerably–with his very life!
It was after Mt. Calvary that we visited the slab where they laid Jesus' body for preparation for burial. Touching the perfumed stone (it's a tradition for people to bring perfume there to pour on the stone and then re-collect), a new sensation as the very blood that flowed from Jesus' wounded and battered body covered my hands—not in guilt but in cleansing. "By the blood of Christ we are set free", and I begged him to do so!
So beautiful, then, that our next moment in the Holy Sepulchre brought us to Mass at the Lord's tomb and that later that day we were able to enter and kneel beside the stone bed where His body had lain. Here, Jesus had taken his action–death to redeem, cure, and heal us–and now I was being asked to take action: What in me can be put to death in order to more closely follow the Lord, in order to more fully love, adore, and worship him? What purging will allow for a beautiful resurrection in me as I journey to love and serve him and those around me well?
Looking back now, I see how the Lord had shown me his face, ever ancient, ever new: his mercy, his love, his salvation. We had encountered his humanity in seeing the land where he was born and lived, and we had witnessed his divinity in the areas where he performed miracles, shepherded his people, and gave his life for the salvation of the world. Would we now allow him to continue to reveal himself, seeking him more fully in prayer, study, and sacrament? But even more so, the question became…would we show him our face, vulnerably turning to him in trust, relinquishing as he did, aligning our gaze with his?
We're all pilgrims, "disciples together on the way" (as Bishop Boyea so aptly calls us), seeking our homeland of Heaven! Jesus, thank you for showing your face to us, thank you for showing the way! Be our strength for the journey; we long to see your face!
Shayne,
Director of Parish Life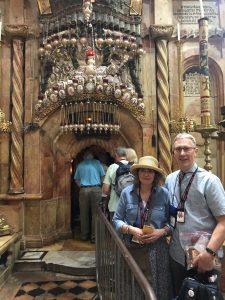 At the Lord's Tomb – 2022