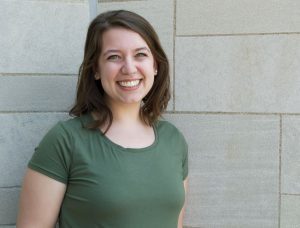 These past few weeks, our high school youth group has been looking at the way our Lord reveals himself through Scripture and our own relationship with Scripture. It's not only been helpful to go through as a group, but it's been helpful to me personally.
I love words. In college I studied journalism because I was fascinated by not only what people did, but learning about what people said. A person can reveal so much about themselves, the way they think, part of who they are, by what they choose–or choose not– to say. I loved studying words, then turning around and crafting my own words to convey those truths.
While my brother served in Afghanistan, I was one of his biggest pen pals. We'd write letters to each other about once a week, just telling each other about our days or something funny that had happened in that moment. I remember the delight of seeing one of his letters arrive and would read it not once, but at least twice, trying to imagine what his voice sounded like as if he were actually talking to me. Trying to imagine him writing out those words. Those letters kept the fear of what I knew he must be going through at bay.
As my youth group has been discovering, we can oftentimes take Scripture for granted and not actually treat it for what it is: the Word of God. Maybe you can relate. And as I look at my own life and realize how deeply impacted I've been by both written and spoken words, I must admit I don't often give the Word of God the time or the chance to change me or move me as I have in other situations. What would my experience with the Lord be like if I, when reading Scripture, were to actually imagine His voice as I read line by line, verse by verse. How would my own heart change if I let the Lord fill my mind with new knowledge of who He is by what He chose to say to me?
One practice that has been helpful to me in falling more in love with Scripture is a practice that our office staff often makes right before our weekly staff meeting. Before we cover what is on the agenda for the day we sometimes will take just a few moments and look at what passage of the Gospel will be read for that upcoming Sunday. Then we take a few moments to just quietly reflect on a word, a phrase, or an image that came to mind as we read those words. I find that when we do this as a staff, I enter in to the Mass a little differently as I hear the priest or deacon proclaim the Gospel that weekend because I already have had a moment with the Lord previous to this time. It's like sharing a personal memory with a close friend; I notice that it doesn't just enlighten me and my easily distracted mind into what is going on, it changes my heart as it becomes more attentive to the Lord's very words.
My invitation, as our parish moves to the second sign of a Dynamic Catholic of study, is to take a few moments in the middle of your week to read over the words that the Lord wants to speak to you not just that coming Sunday, but right now. And if you find that Scripture often stirs more questions within you, that's okay too! There are many resources out there to help you reflect on scripture and answer those questions. Look into Bishop Barron's daily reflections from Word on Fire, or a personal favorite of mine is a women's ministry called Blessed is She. And there are many other Catholic scriptural resources to help you glean more truth from Scripture. You might even feel compelled to ask the Lord himself, because who better to answer the questions than the Author of Life?
How might our hearts be changed, be convicted, even weep, as the people of Israel did in Nehemiah (Neh 8:9) as we let the Lord speak both His truth and His love over us. How might His own words change how we speak back to Him?
To studying His Word together,
Clare Kolenda
Coordinator of Youth Ministry