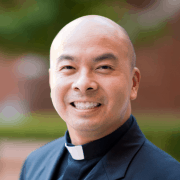 Dear Parish Family,
HAPPY EASTER to you and yours!  This Divine Mercy Sunday is the last day of the "Easter Octave," which is eight straight days of solemnities to celebrate the kickoff of the Easter season.  We had a beautiful Easter Triduum that saw 25 people receive at least one of the sacraments of initiation at the Easter Vigil.  We've included their pictures in this bulletin to celebrate this momentous event in their lives.  When you see these neophytes at Mass, please extend to them your personal congratulations on becoming a part of God's family and our parish.
During the Easter Sunday homily, I expressed some of the sentiments they shared with me about the new life they have received through their relationship with the Lord and his Church.  Some of you mentioned how you were so moved by them that I thought I'd share some of the highlights from that:
One couple, David Salyer and Katy Guajardo, who will be getting married in October, after going through both Alpha and the Catholicism 101 classes together preparing for David's confirmation, Katy said: "Our faith has touched our relationship in ways I never thought would happen.  We're more respectful towards each other, less self-centered, working towards praying together more often, and making our bond stronger."  And David said, "It's that warm atmosphere that initially drew me in, 'til I started praying and found the love of our heavenly Father.  It's truly been a humbling experience, and I'm proud to call myself a little Christ."
One who was both baptized and confirmed is Dana Snider, who said, "I sought out the Church due to a growing feeling that my life was not providing value to this world.  The opportunity to join the Lord on a path to heaven presented itself in this Year of Mercy, a year of forgiveness for my sinful life.  I am only beginning to experience the fulfillment one receives through him.  The Rediscovering Jesus book drilled to the root of fulfillment for my life."
Although Candy Copeland had been Catholic all her life, she said "for the first time in my life at adoration, I truly felt the Holy Spirit…. My heart sang.  I am forever grateful for how to really read and understand the bible…best of all I know Jesus truly loves me.  I feel his warmth all the time.  He encourages me to be the best me.  I will continue my journey with Jesus until he calls me home to be with my Father."
After coming to St. John regularly for nearly 40 years with his late wife, Marcia, Bob Brooker finally decided to jump into the baptismal waters.  He said:  "I consider St. John Church my home and its members my family."
Tanya Isom, a young woman whose powerful testimony I shared with you on Good Friday said "If God can bring me back from the depths of hell where I was, then he can anyone else."  I wish I could share more, but that will have to come in a future bulletin!
The victory that Jesus won for us by his Resurrection gives new life to his disciples to this day.  Let us lay claim to that resurrected life for ourselves once again during these next six weeks of the Easter
season and beyond.
Yours in Christ,
Fr. Chas