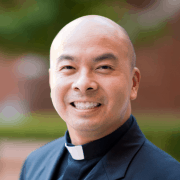 Dear Parish Family,
Blessings to all the fathers of our parish!  Thank you for all that you do and have done together with your wife in raising your children to be "good citizens of both heaven and earth" as our "Year of Marriage" prayer states.  Studies have shown that the greatest sociological predictor of
a child's future practice of the faith is the religious practice of their father and his regular church attendance.  There is something about witnessing the importance fathers place in going to church that leaves its mark on their children.  THANK YOU for your example, fathers!
Congratulations to the three newest priests of Jesus Christ for the Diocese of Lansing who were ordained this very weekend on Saturday, June 20!  One of them, Fr. Robert Bacik, is from our very own town of Jackson who graduated from Lumen Christi in 1998.  The other two are from Ann Arbor, Fr. David Fons and Fr. Zachary Mabee, who was an intern at our parish.

After a priest is ordained, it is traditional that they offer a "Mass of Thanksgiving" both at their home parish and at the parishes at which they were interns.  We are delighted that Fr. Zachary will be offering one of his Masses of Thanksgiving here at St. John next Sunday, June 28 at the 5:00 p.m. Mass.  You are invited to come and congratulate him and receive his priestly blessing in the parish hall after Mass.
One of the most significant moments of my spiritual life was when I consecrated myself to Jesus through Mary, which involves 33 days of prayerful preparation beforehand.  Through the Marian consecration, Our Lady taught me how to love Jesus with greater devotion and purity of intention.  One of our parishioners, Stacey Phelps, will be coordinating the 33-day preparation for those interested in doing so on the feast of the Assumption.  There will be a meeting that explains that period of preparation using Fr. Gaitley's book, 33 Days to Morning Glory, on Monday, July 6 at 6:30 p.m.  Those desirous of doing so will meet for the five Mondays leading up to the feast of the Assumption.  Please contact the parish office or Stacey directly at froggtowne@yahoo.com for more information on this consecration that takes what may be an already strong relationship with Jesus to a deeper level.
Yours in Christ,
Fr. Chas