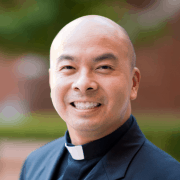 Dear Parish Family,
Happy Gaudete Sunday!  Gaudete means "Rejoice," and we rejoice because the "Lord is near at hand!"  We're over the hump, the halfway point, in our preparation for the coming of our Savior.
Let us express our rejoicing together at the Friday evening Hour of Adoration, "O Come, Let Us Adore Him!" at 7:00 PM on Friday, December 19th.  I want to especially invite those who do not feel like their relationship with our Lord Jesus is very close or personal.  From what folks have told me, this type of worship experience will be new for many of our
parishioners.  
Prelude music will begin at 6:45pm.  After this unique Holy Hour, we will have refreshments at the parish hall.  There will also be a prayer team who will remain in the church for anyone who desires prayer afterwards.
Jesus invites us to "be watchful" for Him. Before any holiday party plans that night, let's delay them for just an hour and put first things first by doing just that this Friday.  As St. John Vianney said when asked about what he does in all that time he spends before Jesus in the Blessed Sacrament, "I look at Him, and He looks at me."
Yours in Christ,
Fr. Chas