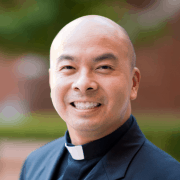 Dear Parish Family,
The Holy Day season also means that flu season is upon us.  Thus, please use discretion during the celebration of the Mass, particularly in two areas:  1) at the "Our Father" and the sign of peace and 2) at the reception of Holy Communion.
At the "Our Father" and at the sign of the peace, if you think you have any cold and flu symptoms or even if you are easily susceptible to illness, please do not extend a hand to your neighbors.  At the same time, please do not be offended should a neighbor not extend a hand to you.  They are doing it for your benefit.  Instead of a handshake at the sign of peace, simply cross your arms and say to your fellow parishioners around you, "Peace be with you."  Doing so with a smile and a bow of the head would be even better.  
As for Holy Communion, those who have cold and flu symptoms should please refrain from receiving the Precious Blood.  Intinction (dipping the host into the cup) is not allowed.  As I'm sure you all know, in receiving either the Body or Blood of Christ, one receives the fullness of the Blessed Sacrament.  
In general, since we will be sitting very close to one another at the Christmas Masses, please be sure to cover your mouth when you cough or sneeze, using a tissue or, if you can't get one out in time, even your sleeve.   
This paragraph is applicable only for EMs (extraordinary ministers of Holy Communion).  Please find a substitute should you sense any sign of cold and flu symptoms, even if it means finding one in the congregation just before Mass.  All those serving as EMs should use the hand sanitizer available in the side areas after the sign of peace.  Also, please use soap and very warm water both 1) when you wash your hands after checking in at the beginning of Mass and 2) when you cleanse the sacred vessels after Mass.  While the clergy purify the vessels from any remnants of the Eucharist, it does not sufficiently sanitize the vessels for the next Mass.
Thank you for your cooperation as we celebrate these joyful mysteries of the Christmas season that begin later this week!  
Yours in Christ,
Fr. Chas