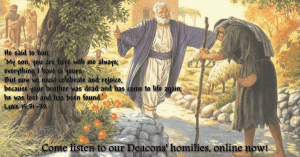 Today we celebrate the Fourth Sunday of Lent. We heard the readings from Joshua 5:9-12, 13-15 and 2 Corinthians 5:17-21. The Gospel was proclaimed from Luke 15:1-3,11-32.

This weekend, we were excited to hear Deacons Mike and Dave preaching! Deacon Mike gave two different homilies on Saturday (one for the Year A Scrunity,) and Deacon Dave delivered this homily at 10:00 am Sunday morning Mass.

Deacon Dave:

Deacon Mike – Year A

Deacon Mike – Year C

To easily download this homily in MP3 format, be sure to check our online homilies page!