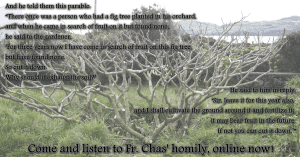 Today we celebrate the Third Sunday of Lent. We heard the readings from Exodus 3:1-8, 13-15 and 1 Corinthians 10:1-6,10-12. The Gospel was proclaimed from Luke 13:1-9.

Father Chas begins with an introduction to our Lenten projects in our parish. At the 4 minute mark, Father begins his homily and implores us to do what Jesus has planted us in our families and our communities to do.

To easily download this homily in MP3 format, be sure to check our online homilies page!