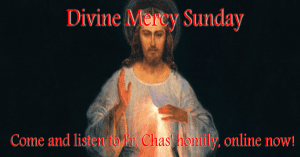 Today we celebrate Divine Mercy Sunday. We heard the readings from Acts 5:12-16 and Revelation 1:9-11a, 12-13, 17-19. The Gospel was proclaimed from John 20:19-31.
On this Divine Mercy Sunday, Fr. Chas speaks of how you are never too far gone to receive our Lord's mercy and love!
To easily download this homily in MP3 format, be sure to check our online homilies page!