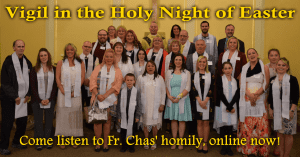 Today we celebrate the Vigil in the Holy Night of Easter. We heard the readings from Genesis 1:1-2:2, Exodus 14:15-15:1, Isaiah 55:1-11, and Romans 6:3-11. The Gospel was proclaimed from Luke 24:1-12.

Tonight at the Easter Vigil, Fr. Chas recalled some of the stories our of Candidates and Elect (now neophytes!) on their journey home to the Church!
To easily download this homily in MP3 format, be sure to check our online homilies page!