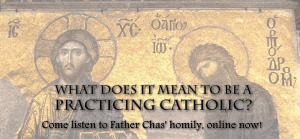 This weekend we celebrated The Second Sunday of Advent. We heard the readings from Baruch 5:1-9 and Philippians 1:4-6, 8-11. The Gospel was Luke 3:1-6.
This week Father Chas completed a series of homilies on the five precepts of the Church.
#5 – To contribute to the support of the Church.

For your convienence, here are links to the last four homilies, on each of the first four precepts of the Church:
#4 – To receive Our Lord Jesus Christ in the Holy Eucharist at least once a year during Easter Season.

#3 – To confess our sins to a priest, at least once a year.

#2 – To observe the days of abstinence and fasting.

#1 – To attend Mass on Sundays and Holy Days of Obligation, and resting from servile works.

To easily download this homily in MP3 format, be sure to check our online homilies page!