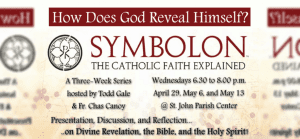 Father Chas delivered this homily on the Fourth Sunday of Easter – April 26, 2015.
Today we had readings from Acts 4:8-12, 1 John 3:1-2, and the Gospel from John 10:11-18.
Father Chas reminds us that Jesus is the Good Shepherd, and asks us "Do we know the voice of the Good Shepherd? Do we recognize Him when He calls and do we follow where he leads?"
To easily download this homily in MP3 format, be sure to check our online homilies page!