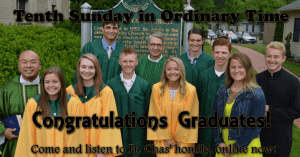 Today we celebrated the Tenth Sunday of Ordinary Time. We heard the readings from 1 Kings 17:17-24 and Galatians 1:11-19. The Gospel was proclaimed from Luke 7:11-19.
This weekend we congratulated our graduates with a special Mass for them at 10 AM, and Father Chas ended his homily with a excerpt of "Slam Poetry" written by one of the graduates!

Fr. Chas:

To easily download this homily in MP3 format, be sure to check our online homilies page!