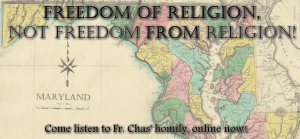 Today Fr. Chas celebrated The Fifteenth Sunday of Ordinary Time. We heard the readings from Amos 7:12-15, Ephesians 1:3-14, and the Gospel reading from Mark 6:7-13.
This weekend we welcomed Father home from his much needed vacation, and in his homily he reflected on his first year as our pastor, some recent events in our nation over the last two weeks, and his thoughts for our direction during the second year of being our pastor!
To easily download this homily in MP3 format, be sure to check our online homilies page!