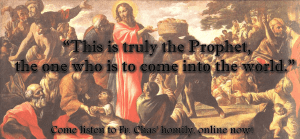 Today Fr. Chas celebrated The Seventeenth Sunday of Ordinary Time. We heard the readings from 2 Kings 4:42-44, Ephesians 4:1-6, and the Gospel reading from John 6:1-15.
Father begins his homily with two seemingly simple question: "Who is Jesus in your life? What's your relationship like with him?".
To easily download this homily in MP3 format, be sure to check our online homilies page!