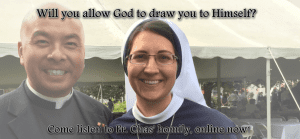 Today Fr. Chas celebrated The Nineteenth Sunday of Ordinary Time. We heard the readings from 1 Kings 19:4-8, Ephesians 4:10-5:2, and the Gospel reading from John 6:41-51.
While explaining today's Gospel message, Father tells us about several of his friends from the Sisters of Life (http://www.sistersoflife.org), whom recently took their temporary and permanent vows!
To easily download this homily in MP3 format, be sure to check our online homilies page!