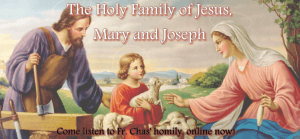 Father Chas delivered this homily on December 28, 2014. We heard readings from Sirach 3:2-6, 12-14 and Colossians 3:12-21, and the Gospel reading from Luke 2:22,39-40.
How are our parish families – parents and grandparents – doing to raise up children to become "strong, filled with wisdom and the favor of God"?
How can we apply the example of the Holy Family, to our own family?