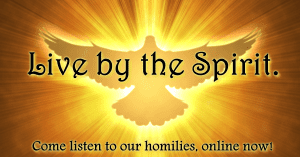 Today we celebrated the Thirteenth Sunday in Ordinary Time. We heard the readings from 1 Kings 19:16,19-21 and Galatians 5:1,13-18. The Gospel was proclaimed from Luke 9:51-62.
This weekend we heard a great homily from Fr. Chas about what our freedom is for, and also a special message of thanks from Fr. Kurian, on this: his last weekend with our parish. May God bless you Fr. Kurian – thank you for your time with us!

Fr. Chas' homily:



Fr. Kurian going-away message:

To easily download this homily in MP3 format, be sure to check our online homilies page!