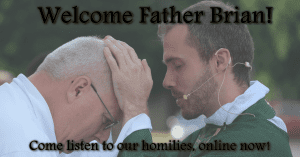 Today we celebrated the Fourteenth Sunday in Ordinary Time. We heard the readings from Isaiah 66:10-14 and Galatians 6:14-18. The Gospel was proclaimed from Luke 10:1-12,17-20.
This weekend we have the pleasure of welcoming Fr. Brian Lenz to our parish and listen to his first weekend homily. Fr. Chas told us more about the newly founded parish representatives and how they will help provide for the three "C"s – Community, Connection, and Conversion.
Fr. Chas' homily:
Fr. Brian's homily:
To easily download this homily in MP3 format, be sure to check our online homilies page!