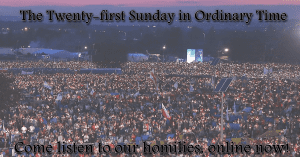 Today we celebrated the Twenty-first Sunday in Ordinary Time. We heard the readings from Isaiah 66:18-21 and Hebrews 12:5-7,11-13. The Gospel was proclaimed from Luke 13:22-30.
This weekend Father Chas shared with us some reflections from World Youth Day, and Father Brian reminded us, as summer comes to an end, sometimes in life, there are no "do overs"!
Fr. Chas' homily:
Fr. Brian's homily:
To easily download this homily in MP3 format, be sure to check our online homilies page!