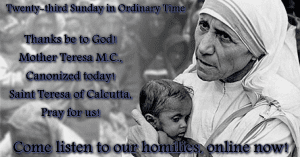 Today we celebrated the Twenty-third Sunday in Ordinary Time. We heard the readings from Wisdom 9:13-18 and Philemon 1:9-10,12-17. The Gospel was proclaimed from Luke 14:25-33.
Thanks be to God! Today, Mother Teresa of Calcutta was official canonized by Pope Francis. Mother Teresa, pray for us!
Fr. Chas' homily:
Fr. Brian's homily:
To easily download this homily in MP3 format, be sure to check our online homilies page!