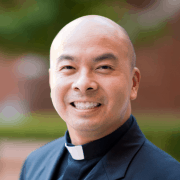 Dear Parish Family,
It was a packed week with our staff retreat this past Tuesday and Wednesday.  Friends allowed us to use their cottage on Pleasant Lake, and there we worked on team unity and better communication, as well the pastoral vision for the parish we discussed with interested parishioners last Thursday.  Then on Thursday and Friday, I was in Arizona to give the priests of the Diocese of Phoenix a clergy day of formation.  The weather had me wishing I could stay the weekend!
The Christian Service Commission spearheads our Lenten Project, and in this Jubilee Year of Mercy, the almsgiving funds you place in the "House of Mercy," the wooden house in the sanctuary below the St. Joseph statue, will go towards parishioners who are in need of the corporal and spiritual works of mercy.  We will again have a portion go towards St. Vincent de Paul to feed the hungry and Lingap to serve the orphans, but the main focus this year will be on two things to serve those in need right here in our parish.  The first is the work of mercy of "welcoming the stranger."  Described in last week's bulletin article, we will focus on providing transportation for those who cannot make their own way to church.  This week, we focus on how our alms in the "House of Mercy" will help comfort the afflicted of our parish in a specific way.
Comforting the Afflicted
The loss of loved ones cause much grief and interior pain in our lives.  We want to "be the face of God's mercy," as Pope Francis says, for those parishioners who are in such grief through the Journeying through Grief program by Stephen Ministries.  This involves sending grieving parishioners four booklets during four crucial times during the first year after a loved one has died:  1) A Time to Grieve, three weeks after the loss, 2) Experiencing Grief, three months after the loss, 3) Finding Hope and Healing, six months after the loss, and 4) Rebuilding and Remembering, shortly before the one-year anniversary.
Should the grieving person also want to meet with someone, our Stephen Ministers, made up of volunteers who are well underway in their 40 hours of training under the leadership of parishioners Barb Socie and Cathy McAllister, will offer to meet with the grieving person during these crucial times.  It is one concrete response to Pope Francis' call for all of us to practice "spiritual accompaniment," journeying in faith with our brothers and sisters in Christ particularly through tough times.
"Come, Let Us Adore!"
Our big evening of adoration for Lent is on Friday evening on March 4!  Prelude music will begin at 7:00 p.m. and the "holy hour of power" will begin at 7:30 p.m.  This is a great event to bring someone who "believes in God," but doesn't go to Mass.  Maybe they have fallen away from the Catholic faith of their childhood or they are not Catholic at all, but is "spiritual, but not religious."  A powerful encounter with Jesus can change everything!  Save the date!
Yours in Christ,
Fr. Chas