Dear Parish Family,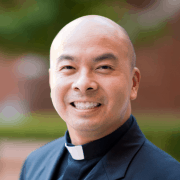 We appreciate things more when we get a chance to properly prepare for them.  This goes for celebrating Christmas, and the Church has an entire liturgical season just for this preparation.  The season of  Advent, however, is not only meant as a preparation for Christmas, but also for the final and definitive coming of Christ in power and glory.  As difficult as it may seem in our American consumerist culture that, due to the almighty dollar, drives the celebration of Christmas earlier and earlier to spur sales, I encourage you not to jump the gun!  Use this upcoming Advent time to prepare well spiritually, lest you fall into having a saccharin, synthetic celebration of Christmas that is likened more to a Coke commercial than the coming of Christ.
Here are three ways to not skip over the season of Advent:
"O Come, Let Us Adore Him!" – a powerful evening of encountering Jesus in the Eucharist on Friday, Dec. 11 with prelude music beginning at 6:45 p.m.
Advent Penance Service – prepare a clean heart for the coming of Christ on Tuesday, Dec. 22 at 7:00 p.m.
Check in with God daily, using a prayer aid to get you started, such as:
a. The "Little Blue Book" or Bishop Barron's "Advent Reflections" booklet.
b. "Best Advent Ever" daily reflection emailed to you.
Sign up at: DynamicCatholic.com/year-of-mercy/best-advent-ever/
End of the Year Contributions
Last Sunday, I finished the third of three consecutive homilies during which I reviewed the five precepts of the Church.  As folks are making end-of-the-year gifts and donations, please remember the very last precept, "You shall help to provide for the material needs of the Church."  Our parish has many needs that are not being met currently because we are short on the necessary material support.  As of Nov. 8, we are about $35,000 short of our fiscal year budget.  To avoid even more hurtful cuts this upcoming new year (fiscal midyear), I ask you to please be generous to our family of God here at St. John.  
We are gaining some good momentum, as there are new and wonderful things going on that have been bringing new and vibrant life to our parish.  There are over twenty people in the RCIA.  Young families are returning to church.  Many more children are taking part in religious education and the children's liturgy of the Word.  Accommodating such growth in God's kingdom here in Jackson, however, requires increased support.  
Please consider these two things:  1) make a special Advent/Christmas donation to the parish and 2) consider moving closer to that true tithing amount of ten percent of one's gross income if you haven't done so, even if it is just one percent.  All is from our good and gracious God; let's imitate his generosity and be good stewards of the blessings he has given us.  Have a blessed Advent!
Yours in Christ,
Fr. Chas